bh
[section]
[row]
[col span__sm="12″]
Hello,
I specialise in website optimisation and internet marketing for businesses who primary has a local customer base, such as estate agents.
I have analysed all estate agents website and marketing approach in Burgess Hill and have now a very good understanding of all your competitors strengths, weakness and the many opportunities.
My initial service offer is for the domination of Google and Facebook of your services, with a self sufficient, long term, self promoting website and process with an Estate Agent back end that has Real Time Live Data (RTLD, update once change everywhere, instantly) with Zoopla, primelocation, onthemarket and lots more.
To avoid any conflict of interest this service will be only sold to ONE Estate Agent in Burgess Hill.  In addition no other parts of my services will be offered or sold to any other Estate Agent in Burgess Hill.
If this service is not sold to any Estate Agent in Burgess Hill, then I will later be offering the complied report to all at £450.
Below is a screen grab of "Google Pack of Three"  for the search term "Estate Agent", I have also shown the citation submission score for that agent.  If you would like to see your own score and how I can dominate the internet for your services, I offer a free no obligation on site consultation.
Thank you
Mark Jones
Owner
07732 278257
Pack of three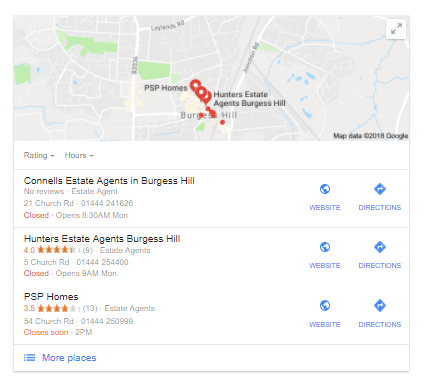 [/col]
[/row]
[/section]